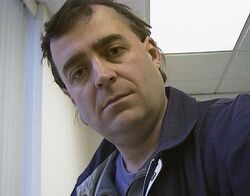 Steve Brown. While this is a scary mugshot, Steve Brown is one of the cornerstones of the Panzer General 2 community. Best known as the forum spammer no. 1 and the creator and guardian of Panzer General 2 campaigns.
Steve has been around for a long time and seem to have endless patience and time to spend on the forums, helping n00bs, discussing campaigns and campaign design and generally furthering a friendly and co-operative atmosphere on the forums.
Steve is one of the foremost representatives of the "minimalistic school" of campaign designers, as opposed to the "waffenkammer school" of campaign designers.
Steve is the creator of many campaigns and a pioneer within campaign design only a few steps beghind William Dickens. Many campaign design features and ideas saw their first use in one of Steve Brown's campaigns, of which the most wide-spread and famous probably is the British Western Desert and Italy Campaign (also known as BWDIC).
External Links
Edit