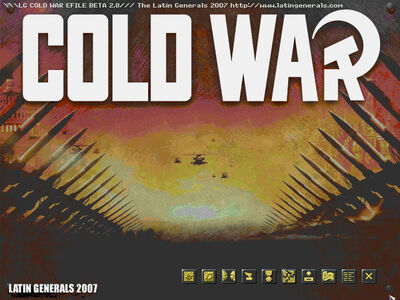 Concept.
The main idea of the LG Cold War, commonly known as LGCW, was to retake the concept of the old, and rarely commented Waffenkammer WW3 efile, and also the Jorge Gabitto's ideas for his Arab - Israeli war campaign. The next step was to enhace, expand, and addapt the Cold War concept to the nowadays PG2.
The bulk work of the efile development lasted from the late 2006 up to the late 2007. The initial designer was Santiago Fuertes, but later, Juan Carlos Preciado aka Juankar also added his collaboration to the project. Juankar did one of the finest PG2 icon collections of all the times by making a huge amount of icons for the Cold War units of each country. Soon, other PG2 fellows become interested into the project, and also realized a great work, like Jeff Goldstein aka JG56 and his outstanding reasearch about the Cold War era navies. Others, like Yakobinets, also collaborated in the icon creation proccess by making many models of tanks, jets, and other weapons, then adapted by Juankar for each different country.
The final outcome of the LGCW resulted in the most modern (in technicall terms) efile never done up to now.
The efile.
Ranging from 1955 up to 2020, the LGCW is the bigger efile in terms of time range, covering battles during 65 years, including historical, hipotetical, and future battles even with still unreleased real weapons.
The country list included in the LGCW is the next:
Cuba
North Vietnam
Syria
Kampuchea
Russia
Israel
France
Angola
Rebels/Misc.
USA
UN
South Korea
NATO
South Vietnam
Jordan
Iraq
Iran
Argentina
People's Republic of China
*USSR
India
North Korea
Commonwealth
Egypt
West Germany
East Germany
Warsaw Pact
Republic of China
South Africa
Pakistan
Saudi Arabia
The LGCW will expand his country list with the arrival of the future OPG2. It's currently one of the few efiles which includes a miscellaneous slot, the Rebel/Misc. slot. This slot comprises a wide variety of rebels, guerrillas, and different organizations, useful for many battles.
Find more about this efile at:
Ad blocker interference detected!
Wikia is a free-to-use site that makes money from advertising. We have a modified experience for viewers using ad blockers

Wikia is not accessible if you've made further modifications. Remove the custom ad blocker rule(s) and the page will load as expected.