Information
Edit
The German Freikorps were a new breed of the German army. They appeared in late 1918 as volunteer units both on the Eastern Front and at home. The distinguishing characteristic of these men from other military units of the Kaiserreich was their intense loyalty to Germany and love of combat.
After the Armistice, the Freikorps formed the backbone of the Reichswehr military. With the rise of Bolshevism in Russia, the Freikorps were sent-as part of a deal with the Entente-to contain the Red Army in the Baltics. By this time, the ranks of the Freikorps included many Baltic Germans with family, feudal, and estate ties to the region.
As time progressed, the idealism of loyalty and combat turned into militant nationalism and brutality. The Freikorps terror in Latvia and Lithuania became a note of many in a chord of human suffering at the hands of Whites, Letts, and Reds during the bloody 1919.
This campaign traces the development of the Freikorps during the latter conflicts with Russia in WWI, the Freikorps involvement in rebellions from Bulgaria to Finland, and their campaign in the Baltic region.
The GOFC is a linear type of campaign I am building with all the tips and tricks I have picked up from various discussions in the PG community. This campaign follows the transformation of the German Army from the middle of WWI through the inter-war period of crumbling empires. Each battle has been thoroughly researched and playtested to provide a challenge. I have written the battle briefings to reflect a storyline and to reward the ambitious player.
I hope you will enjoy this campaign! Of course, I would like to add that in no way does the creation of this campaign coinside with my political views and that I do not wish to promote the horrors of war and militant ideology with this work!
GOFC scenario list
Edit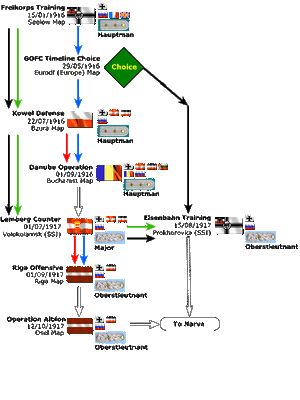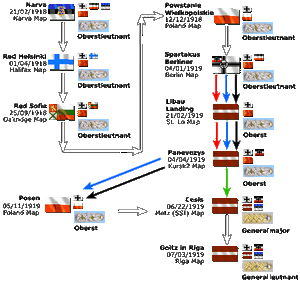 0 01/05/1916 Freikorps Training
1 30/05/1916 GOFC Timeline Choice
2 22/07/1916 Kowel Defense
3 01/09/1916 The Danube Operation
4 01/07/1917 Lemberg Counterattack
5 15/08/1916 Eisenbahn Training
6 01/09/1917 Riga Offensive
7 10/12/1917 Operation Albion
8 02/20/1918 Narva
9 11/04/1918 Red Helsinki
10 25/09/1918 Red Sofia
11 27/12/1918 Powstanie Wielkopolskie
12 11/01/1919 Spartakiste Berliner
13 21/02/1919 Libau Landing
14 04/04/1919 Panevezys
15 11/05/1919 Posen Offensive
16 22/06/1919 Battle of Cesis
17 03/07/1919 Goltz in Riga
GOFC map list
Edit
Berlin [europe section]
Bucharest [europe section]
Bzura [russia section]
Europe [europe section] (note: use the EURODF.MAP file)
Halifax [north america section]
kursk2 [russia section]
Narva [russia section]
Osel [europe section]
Poland [europe section]
Riga [russia section]
GOFC smack list
Edit
016.smk
023.smk
026.smk
gofc.smk
pzzug-01.smk
red-army-01.smk
red-army-03.smk
ura-01.smk